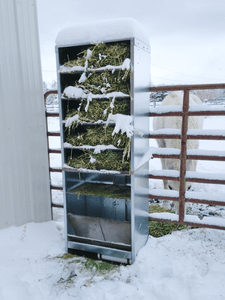 Feeds 1 to 9 Times/day or /week, or 3 Feeds/day for 3 full days, or any combination you choose with our versatile electronic EEZ TIMER.
Call us at 1-775-742-0742 for Automatic Hay Feeders and more.
9 feed shelves spaced 7" apart x 24″ wide x 18″ deep

24hr/7day programmable electronic timer allows feeding as many times/day at whatever times/day you choose

Powered by 8 D Cell batteries

1 Year Warranty
The EZ9-7 Auto Feeder is one of the most versatile items we offer. It's easy to use, gives you plenty of food to load for your horses or other animals, and it's simple to power. Whether you're looking to free up some extra time or you'll be away from your animals for a few days, this is the ideal auto feeder for your farm.
So, how much food can you load onto the EZ9-7? As you might guess from the name, you can load a full nine servings of food. You can load loose hay, grass or both of them together, depending on what your animals eat. The shelves are about 7 inches apart and each compartment is about 6.5 inches thick, 24 inches wide and 18 inches deep. This gives you a lot of room, so animals from small to big can get enough from each compartment.
You can choose how and when the food disperses each time with the electronic timer and its versatile settings. Many use the EZ9-7 to disperse three servings of food per day for three full days, but that's only a suggestion. It's up to you how the food disperses. You can select from one to nine servings per day and when that food releases to the animals. Whether you want a single serving each day or even a full nine, it's easy to set it.
Not only can you set the time and number of servings, but you can also set what days to release the food. For example, if you want it tomorrow or the day after, you can set it any way you'd like with the timer.
Powering the EZ9-7 Auto Feeder is very simple. You don't have to plug it in or use a huge battery. All it takes is eight D cell batteries and you can keep the EZ9-7 running for about a year. Feel free to use the feeder every day as needed, you'll be sure to get lots of use from it before the batteries run out.
You get a 1-year warranty on the feeder that will protect you in case anything happens, but these are sturdy machines that can take punishment from the weather and consistent movement from dispensing food. If you have any problems, or only want to talk about auto feeders, be sure to call us at 1-775-742-0742.
EZ9-7 Auto Feeder features:
- Allows you to load a full nine servings of food, perfect for animals big and small
- Only requires eight D cell batteries, powers the feeder for about a year
- Simple operation, you can set when food disperses and how many times each day
- Comes with a 1-year warranty
The EZ9-7 Auto Feeder saves you time while making feeding much easier. You can load nine servings at food at once, which is often enough for about three or four days. Give it a try and you'll see how much easier this makes managing your animals.