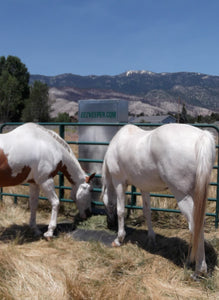 Custom Automatic Hay Feeders Can Be Built To Customer Specifications; smaller; 1,2,3,4,5,6,7 shelves, larger; 10,11,12, or more shelves, different: sizes; narrower, wider, feeds, configurations, materials, drop chutes; drop from overhead, colors, etc. Call 1-775-742-0742 for a free custom quote. The $3,895.00 price shown is a common base price deposit on a custom order and may vary depending on build. 
Call us at 1-775-742-0742 for Automatic Hay Feeders and more.
IF YOU CAN LOAD IT, WE CAN BUILD IT. Our Patented EEZ systems are eezily customizable to meet your needs. Give us a call.
Custom Automatic Hay Feeder
Every animal is different and has unique needs when it comes to managing their diet and ensuring they are getting proper nutrition. We provide very reliable automatic hay product feeders that are versatile and work well for most animals, but maybe you need something different than our standard configuration. In this case, we offer Custom Automatic Hay Feeders to build the perfect feeder for you.
Do you need a feeder that's massive and stores a ton of food? Or maybe you need one that's smaller than our standard offerings and is compact to fit in small spaces, or a loft. While we usually find that size is one of the most common factors that needs customization, we can do much more than that.
If you need a specific configuration, materials, drop chute or even color, we are able to help you by making your custom auto hay feeder. Now you might be wondering if there are any builds that are too crazy or outside or capabilities. We have years of experience making feeders, both standard and custom models. Let's make this as plain as we can: If you can load it, we can build it. Give us your specifications and we will return with a feeder that you can't find anywhere else.
No matter what you need, whether it's big or small, crazy or a little different, or a different color, please give us a call at 1-775-742-0742 to discuss your needs. We would love to speak with you to clarify your needs and build the perfect feeder for you. Even if you only have a vague idea, we will help to flesh it out and ensure that you're happy after everything is all said and done.
Please be aware that the price on this page is only a common base price for our Custom Automatic Feeders. We cannot be held to this price as it might change based on your exact needs. This is why we urge every client who is interested in this service to call us so that we can give you a better estimate. Our EEZ Patented feeder systems allows for simple customization, so feel free to give us any ideas, you'll find that we can build the ideal unit and in record time.
Custom Automatic Feeder features:
- You can customize the size, color, materials and so much more
- Call us at 1-775-742-0742 to discuss your ideas, we will flesh them out and ensure you're getting the perfect feeder
- Fast turnaround times, we will give you an estimated delivery after speaking with you
- We can build almost anything, if you can load it, we can make it
We love making Custom Automatic Feeders because it gives us an opportunity to show how great our skills and machines are. Be sure to contact us to discuss your ideas so we can get back to you with an estimated price and turnaround time.